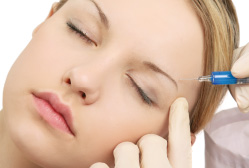 Injectables include BOTOX® Cosmetic and fillers to beat the aging process and avoid plastic surgery. We offer advanced techniques and price by the amount of product you need. We recommend consultation to tailor the best treatment options for you.
Botox is an FDA-approved prescription injectable that works on the nerve impulses to relax the muscle. It is used to treat the aging process of the face and neck. Other medical treatments include vaginismus, excessive sweating, headache and jaw pain. Botox lasts 4 months, and starting at a younger age will prevent fine lines and wrinkles for years to come.
We use multiple types of FDA-approved fillers to offset the natural aging process where we lose volume in our lips, cheeks, jaw and chin. Consider the "liquid face lift" for a non surgical transformation. Fillers last 1-2 years depending on the type used.
We recommend you call us to schedule a Free Consultation for best results!