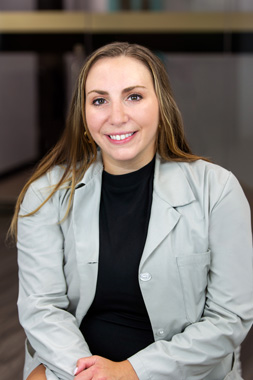 Dr. Fitzpatrick completed her medical training at Lincoln Memorial University- DeBusk College of Osteopathic Medicine in Harrogate, Tennessee. She then completed her comprehensive and high volume OB/GYN residency locally at AMITA Consortium in Chicago and the Northwest suburbs where she had the opportunity to work with our other doctors in both Obstetrics and Gynecology at Saint Alexius Medical Center.
Originally from Ohio, Dr. Fitzpatrick completed her undergraduate degree in Exercise Science and Nutrition from Miami University in Oxford, Ohio.
Dr. Fitzpatrick enjoys all aspects of the OB/GYN specialty and is particularly interested in minimally invasive robotic and laparoscopic gynecological surgery. She is a proponent of individualized, patient-centered care and creating the best birthing experience for her expectant patients.
When not working, Dr. Fitzpatrick enjoys spending time with her husband, Peloton, traveling, cooking and trying new restaurants.