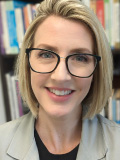 Margaret DeVault has been practicing as a board-certified Physician Assistant in women's health since 2003. She received her Bachelor's degree from the University of Illinois at Urbana-Champaign and completed her Master's degree in the Physician Assistant Program at Midwestern University.
Margaret's training and clinical experience has prepared her to provide comprehensive, compassionate healthcare. She is certified to assist the doctors with Caesarian deliveries, gynecologic surgeries and to see patients in the hospital. She sees both obstetric and gynecological patients in the office and can perform minor office procedures such as colposcopy, IUD and Nexplanon® placements and endometrial biopsies.
Margaret provides patient-centered care with a focus on education to ensure patients can make informed decisions regarding their healthcare.
Margaret lives in Algonquin with her husband and three children.