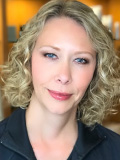 Kelly Symbal
Microneedling is a treatment that has been in existence for decades and is a continually advancing technology. The thought process behind the technology is to treat and improve skin conditions such as acne scarring, the fine lines and wrinkling of aging, loose skin, skin texture, pore size and pigmentation.
When we microneedle, we are control-wounding the skin. This means we are purposely making tiny channels in the skin with sterile needles. As we do this, the production of collagen is induced. Before starting the treatments, it is important not to use topical agents that may increase the sensitivity of your skin. Some examples of this would be Retinoids, exfoliants or acids for 5 to 7 days prior to your treatment.
Three to four treatments are recommended, four weeks apart. It is very important to be consistent with your treatment sessions for proper collagen induction. After the three to four sessions have been completed, you can expect to see your full results in four to six weeks. To maintain our results a treatment of microneedling should be done every six months.