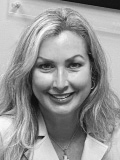 by Jeanne Novas, MD

DC&G ObGyn offers the most thorough genetic testing during your pregnancy, as recommended by the American College of Obstetrics and Gynecology. In office-ultrasound Nuchal Lucency testing at 12 weeks can detect cardiac defects, cystic hygroma, and identify pregnancies at higher risk to tailor care accordingly.
In most other practices, patients have to be referred out for this level of evaluation, and not all patients are given that option. We also counsel our patients on the cell free DNA testing, which can find fetal cells in Mom's bloodstream at 10-12 weeks and even confirm the sex of the baby! Certain carrier genes can also be tested. We work with the labs for these tests so you can receive them at a reasonable cost. Sequential testing at 12 and 16 weeks is also done for those who decline the cell free DNA testing. These are tests that allow us to perform early diagnosis and provide the best care to you through pregnancy.
We also do amniocentisis for certain high risk pregnancies or by patient choice. Very few OBGYN groups are offering this level of care, and patients are not aware of this. Many practices may say they offer patients testing, and then refer them outside of the practice at a greater cost and inconvenience to the patient. These are optional tests, and we have many patients who benefit greatly from this level of care.