By Dympna Coll, MD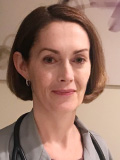 In 2021 an estimated 280,000 new cases of invasive breast cancer and 50,000 cases of non-invasive breast cancer are expected to be diagnosed in the U.S. According to the National Breast Cancer Foundation 1 in 8 women will be diagnosed with breast cancer in their lifetime. Breast cancer can also affect men and accounts for 1% of all breast cancers.
Approximately 5-10% of breast cancers are due to a genetic mutation inherited from a parent. Examples of genetic mutations include, but are not limited to, the BRCA1 and BRCA2 gene mutation. Having a genetic mutation can increase your risk of breast cancer by up to 72%. Genetic mutations may also increase your risk of ovarian, uterine and colon cancer. If you have a family history of breast cancer you should talk with your healthcare provider regarding genetic screening. Then a risk assessment can be calculated. Women who have a genetic mutation can be referred to a Breast Care Specialist for further counseling. Options include surgical intervention or opting for a more conservative approach which would include increased surveillance with alternating mammograms and breast MRI.
The American College of OB/GYN recommends routine annual screening for breast cancer with a mammogram starting at age 40. Screening should occur earlier for women who are at higher risk based on their family history. The ability of a mammogram to detect breast cancer can be affected by the density of the breast tissue. If dense tissue is detected on your mammogram, a screening ultrasound of both breasts will be recommended. Dense tissue is more common is women less than age 50. Other screening tests that the Radiologist may recommend for women with dense breast tissue include 3D mammograms or breast MRI.
Early detection of breast cancer can occur through education and promoting awareness. If you are due for your annual screening or if you are age 40 or older and have not yet had your baseline mammogram you should call today and schedule one. Remember, early detection saves lives!

For more information you can go to these organization's websites: